What is The Best Age to Start Orthodontic Treatment for My Child? | Lux Orthodontics
This question has left many parents confused after consulting with their dentist, their friends and the internet, all of whom may dispense different opinions. What is the best age to start orthodontic treatment for children? The short answer is: it depends on each individual child's diagnosis. However, one recommendation is constant for every child: The first orthodontic examination should occur no later than age seven. The information that follows will offer guidance and help answer the many follow up questions surrounding this topic.
At What Age Should I Take My Child For Their First Orthodontic Visit?
The American Association of Orthodontists (AAO) recommends that every child visit an orthodontist for the first time no later than age seven. At this age, an orthodontist can properly assess the bite, jaws, teeth and oral habits and make the recommendation to either treat now or treat later.

What Are Some Indications That My Child Will Need Orthodontic Treatment?
Any of the following are likely indicators that your child may need orthodontic treatment at some stage of dental or facial development:
Early or late loss of baby teeth
Trouble chewing or biting
Crowded or protruded teeth
Thumb or finger sucking habit
Teeth that fail to meet properly
Facial imbalance or asymmetry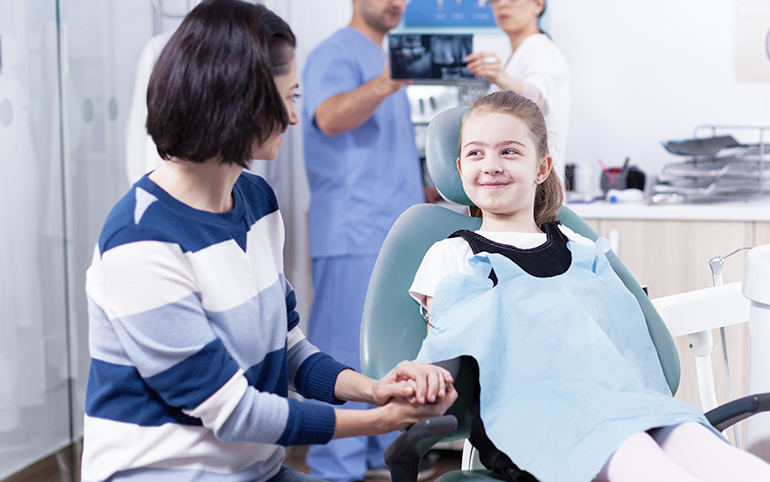 What Can A Parent Expect At The First Orthodontic Check-up?
The first orthodontic experience is a positive one! The orthodontist reviews the medical and dental history, establishes a conversation with both the parent and the child and explains to each what will happen next. Communication at the beginning of the appointment is key to setting the expectation of the appointment and placing both the parent and child at ease.

At Lux, a digital scan of the child's teeth and bite is taken which allows for a simulation of the final result, which is then presented and reviewed. The simulation is a fantastic visual aid to review alignment, asymmetry, and the relationship between the teeth and jaws. It is also emailed to the parent so that other interested family members who were not present at the consultation can view it. The exam accounts for only 50% of the consultation. The other 50% addresses what cannot be seen by the orthodontist – the developing teeth. A x-ray provides this information and can help determine if adult teeth are missing, extra or developing in the wrong place. At Lux, a 3D digital X-ray machine is used, which provides more information than a standard 2D digital X-ray. Combining the results from the exam and the X-ray, the orthodontist will either recommend early treatment (often referred to as Phase I Orthodontic Treatment), or recommend an observation of the child during development until most or all of the adult teeth are present. Observation appointments can range from every 6 months to every 12 months, depending on what is being monitored.
What Is The Average Age That A Child Will Start Treatment With Invisalign Or Braces
As with any orthodontic decision, this will depend on several factors, like those previously mentioned. If Phase I is recommended, appliances like Invisalign, Braces or Expanders can be used as early as age 7. If patients are placed on observation, both Invisalign and braces can be used for treatment once all of the adult teeth are present. In girls, this occurs around age 12 and, in boys, this usually occurs a bit later, around age 14. While the presence of adult teeth is helpful to initiate orthodontic treatment, another important factor is growth. Many orthodontic issues are not limited to the relationship between the teeth only but, rather, hinge on the stage and pattern of growth of the upper and lower jaws. Girls typically experience a growth spurt between 9-12 years of age and boys experience it later, usually between 12-15 years of age. A goal is to maintain an average treatment time of 18-24 months to maximize cooperation from the patient and avoid burn-out. Pairing the presence of adult teeth with the growth spurt is a top priority for orthodontists.
Is Invisalign Really An Option For Kids?
The answer is an emphatic YES! Kids and teens fare extremely well with Invisalign and, in fact, are asking for it. This interest in Invisalign correlates to motivation which ends with a great result and shortened orthodontic treatment time. On average, treatment time with Invisalign is 5 months faster than with braces. The lack of true emergencies and broken appliances is a key factor in keeping treatment moving, especially in summertime when kids go away to camp or take a family vacation. Treatment can progress without having to see an orthodontist, since the treatment movements are built into the aligners by the orthodontist at the onset of treatment.
Are There Different Types Of Braces For Kids?
While there are both metal and clear braces for kids, most parents opt for the metal kind. They are more difficult to break and when they do break, the entire brace comes loose, which allows for easier removal and replacement. Clear braces come in many different materials ranging from ceramic to plastic to sapphire and they are all more brittle than metal braces. This distinction allows for partial breakage of the corners of these types of braces, which renders them ineffective. Often, parents do not know their child's clear braces are broken until they attend their orthodontic appointment. With both metal and clear braces, every broken brace requires a repair which may also require a step-back in wire size, which leads to increased treatment time. Consulting with the orthodontist on which kind of braces is best for the child patient will help make an informed decision.
How Much Does Invisalign and Braces For Kids?
The cost of Invisalign and braces usually depends on the length of treatment and complexity of the case. Dental insurance may also have an orthodontic insurance benefit that can be applied towards the cost of either option. In addition, many orthodontic offices finance the treatment cost for the patient without any interest. The use of funds from an FSA or HSA can also be used towards the patient portion of the cost as well. According to Oral B, here is a typical range of cost for treatment with various appliances:
Metal braces: $3,000 – $7,000
Invisalign: $4,000 – $7,400
Ceramic braces: $4,000 – $8,000
Lingual braces: $8,000 – $10,000
How Long Will My Child Have To Wear Invisalign or Braces?
While this varies, most children wear Invisalign or braces between 18 and 30 months. Regular appointments, whether in office or virtual, with your orthodontist will ensure that the treatment stays on track.
Visit Dr. Erin Cohen At Lux Orthodontics
Above all, an early orthodontic treatment appointment is extremely beneficial for both the child and the parent. It helps the parents understand what issues may be in play and allows the orthodontist to identify any issues that need to be addressed sooner rather than later. Most importantly, it is the first step towards a beautiful and healthy smile for your child.

At Lux Orthodontics, we specialize in orthodontics using both Invisalign and braces. If you would like to schedule a complimentary consultation for your child with Dr. Cohen, you can book directly through the website at Luxorthodontics.com, text Lux at 424 277 0030, call Lux at 424 279 1444, or email Lux at info@Luxorthodontics.com.

DISCLAIMER
This blog is provided for informational purposes only. The content is not intended to be a substitute for professional orthodontic advice, diagnosis, or treatment. Always seek the advice of your orthodontist or other qualified health provider with any questions you may have regarding a specific condition.